Please take a moment to read how volunteering has positively impacted the lives of our residents and volunteers.
May 2019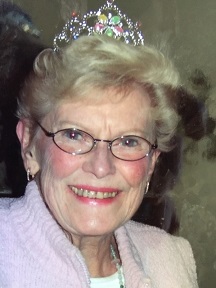 Jane regarding Mary
"I have spent the last three years visiting Mary T. in Issaquah. I have such fond memories of my time with Mary. As is often the case, I learned so very much from Mary and feel I certainly gained as much as I tried to give her. We played games, talked, went out to lunch and even went on a shopping spree. We had many wonderful laughs over the years. Sadly, Mary passed away a few months ago but I will never forget her. My memories with her will hold a special place in my heart. For anyone who enjoys elderly, I would highly recommend this program. I can assure you it will be a wonderful and most fulfilling experience."
June 2018
Elizabeth's video journal about volunteering


Watch Elizabeth's 10-minute-long video about the role volunteering with Friend to Friend plays in her life.
July 2015
Susan regarding Lucille
March 2015
Stephanie regarding Art
"Art was once given a beautiful shoe shining box/stand many, many years ago. When he relocated to Seattle, the box was misplaced. It was very special to him, so he felt lost over not having it anymore. I have started doing woodwork again after my husband and I moved a few months ago to a house with a wonderfully large garage. (Side note: I received a 4.0 in junior high wood shop, bring the only girl in the class, and having to take it due to an overloaded art class. The next year, none of the boys would talk to me, and honestly I think they were a little jealous. 🙂 ) Anyhow, Nick (my husband) and I have a little wood shop, and so I knew that once I heard this story, I would have to make him one. I had a month to do it, and this sort of thing takes time.
Attached are the pictures of what I made Art for his 91st birthday. I used high-quality leftover pine and stained it with a mahogany finish, then shellacked it and applied several coats of a citrus wax protectant and finish. I emailed Sherri, his daughter a few weeks before the big day, and we were in cahoots–we would surprise Art with a visit, and I would bring him potato pancakes (made from scratch) with applesauce, and two miniature cheesecakes for dessert (his all-time favorite birthday treat). Additionally, I made him a birthday card and an envelope with woodgrain-textured paper that I had laying around the house, with no idea of when I would ever use it. His homemade card was pop-up style and was textured so that he could feel it, due to being visually impaired. Anyways, it was a blast and he and I had a great time, as well as his daughter Sherri. I felt honored to share his special day with him and his daughter, and my husband was glad that I finally used some of my MANY craft supplies. All around, it was a win-win!
Thanks again for making this opportunity possible, and giving me a chance to have a wonderful friend in my life. I will be volunteering with your organization and meeting with Art every week so that I can make it, and know that he will be in my life until his final days. I think he's going to live to be over 100 years old with his zest and vigor for life, so I very much look forward to enjoying his company and hearing all his amazing and wise stories. :-)"
July 2014
Kat "I have taken on a new friend at Hallmark. Her name is Edith. We have really hit it off! I also have befriended her roomie, Veronica (Ronnie), as we had previously met while wandering the halls! She seemed to really be in need of someone to talk to, and we have also connected. Do you know how pleased I am to feel I am making such a difference in someone's life?! They are all a blessing to me!"
January 2013
Kristy, West Seattle "I was matched with two friends: Millie and Mabel and I spend each Thursday afternoon at Bayview with the two of them. Thought sadley, Mabel passed away on Christmas Eve. The staff at Bayview thought that Mabel would be a good match because we happened to see her in the hallway when I was interviewing as a volunteer and she lit up like a Christmas tree when she saw my 1 year old daughter — the staff said they hadn't seen her smile like that before EVER and that she was kind of reclusive" — Kristy, West Seattle "One of the nurses pulled me aside recently to tell me that Millie complains less about being in pain since I have been spending time with her and the volunteer coordinator says Millie often tells her how much she looks forward to Thursday afternoons (Smile)!"
June 2012
Katie, FW/ Lacey "I worked in a retirement home for over two years and I have witnessed personally how important companionship is for the elderly and would love to volunteer in this way. I am kind, patient, and truly enjoy spending time with elders." Margaret B. of Bainbridge Island "I was contacted by the Volunteer Dept. at Martha & Mary and invited in for an interview. During the interview I was told of a great volunteering need on their rehab floor by visiting "door to door" with the service/treat cart. As we explored the idea together I decided it would be a good fit for me…I don't have a special, singular friend, but I do "work" at least once a week for about three hours or so visiting about 20 or so "friends". I do intend to continue for at least a year & may even pick up some other "jobs" at Martha & Mary as the opportunities arise. Thank you for putting me in touch with this wonderful facility!"—
May 2012
Marilyn S. former program coordinator "My husband, (Rotarian) Chris, and I sing with Alpha Singers at Assisted Living & Retirement Homes. A couple weeks ago we sang at Aegis Senior Living of Shoreline. Prior to the performance I introduced myself to Lisa, the Activity Director. Lisa shared that her dad lives at Foundation House at Federal Way and has a Friend to Friend visitor. She is grateful for this match and her dad is really glad to have a friend. In addition, Lisa is also happy to get FTF volunteers for her residents. (We love to see FTF's impact on the lives of staff as well as volunteers and residents!)" Lois B., Friend to Friend Report for WSP Outreach Committee "I had quite a day today for Friend to Friend. I met with Connie at Daystar with her new 93 yr. old friend she is a "sweetheart". She has had blindness most of her life, she came from "good Homestead stock" in South Dakota also, the state where Connie was born. We had a great conversation about farm life old time songs; we all sang together while I played their piano in their lounge. Then, another plus was when I heard her mention Joe B., where she goes when he leads their in-house chapel service so now I have to call him. It would be neat if he could come to Peace Lutheran next Sunday. I could pick him up if he doesn't drive. Anyway, I took a picture of Connie and Orpha which I will frame for Sunday and give it to Connie to give to her friend."
April 2012
Brad P., Puget SoundHealth Care "My friend's name is Chuck L. I have been visiting him every week since last October. We have developed a very good relationship and I always enjoy my time with him. Thanks for asking—hope all is well with you!!" Katie W., Bothell Care Center "I am matched with Aletha and there are others I visit with also. Her family is not close by. She is hard of hearing and it is not easy to talk on the phone. Becoming a friend forces me to slow down and be a better listener. I enjoy seeing them smile and even better, laugh! I hope they know they are special and loved. I was so touched when Miles sang me a song, "When Irish Eyes are Smiling." It was beautiful! Aletha is about 102. I love her stories of how life was back in the day."